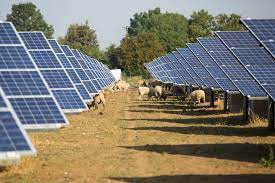 TWENTY times more British farmers are diversifying into solar energy than a decade ago.
Nearly a quarter of all diversified activity in English agricultural businesses is generating electricity through solar panels, according to a recent government report.
It showed nearly 70% of farms had some diversified activity, with 22% of those harnessing the power of the sun to create solar energy. In 2012, says the report, this figure was just 1%.
This is the second most popular diversification, according to the document. The main alternative revenue stream for farmers comes from letting out agricultural buildings for non agricultural use, with 47% of diversifiers doing this.
Interested in installing solar panels? Whether you are focusing on renewable energy, environmental schemes, other diversifications or traditional food production,, we can help you.expand to safeguard your and your family's future.
You can use government grants and payments as a deposit for funding larger projects and borrow the remainder from us on a fixed-rate, fixed-term basis – which will free up your cash flow.
Want to try out some figures? Use our finance calculator – or contact us to see how we can help!