Government's Green Finance Strategy puts farmers top of the agenda
As a friend and lender to Britain's farmers, we've always recognised and supported the vital role they play in conserving our environment – and now hopefully the government's recently-published Green Finance Strategy will help us go even further.

The document promises farmers will be able to "confidently and securely access payments for the environmental benefits they produce" with a raft of commitments to make it easier to attract public and private investment.

This is good news as it means our leaders, who have committed Britain to be a net-zero economy by 2050, are acknowledging the unique and essential part farmers will play in meeting that target.

"Nature sustains economies and livelihoods, and protecting and restoring nature is inseparable from addressing climate change," says the strategy's introduction by chancellor Jeremy Hunt, environment secretary Therese Coffey and energy and net zero secretary Grant Shapps.

More immediately, this should also help farmers to protect, sustain and grow their businesses.

Anything that facilitates farms to access the funding they need to secure their future into the next generation and beyond in a post-BPS world is a welcome step forward, especially if it supports decisions whether that future lies in traditional food production, countryside stewardship, renewable energy production or a combination of all three.

At Rural Asset Finance we've been playing our part for some time.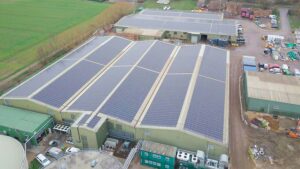 Thousands of farmers use government grants as a foundation to then attract loans and other additional investment for new on-farm business ventures, and many of our customers have used innovation grants to secure both new technologically advanced and environmentally sympathetic machinery.

This enables them to grow their business in a sustainable way but protect their cashflows, making the investment pay for itself over its useful life.

The government is simultaneously publishing Powering Up Britain, setting out its plans for green energy, which include £20bn for carbon capture, usage and storage (CCUS); commitments to increase deployment of low-carbon hydrogen.

Again, we are pleased to see commitment to green energy, which we have been financing on farms for years since the UK tariffs began.

Our funding is financing innovation in greener food production methods such as a noticeable increase in the leasing of electric and autonomous farm vehicles, as well as high energy users in intensive farming systems with solar and battery backups installed on farm.

With our support, developments in on-farm battery storage are helping farmers to come almost 'off grid' and be self-sufficient – while hedging their long- term power costs at the same time by buying or leasing the equipment with the certainty and reassurance of fixed-rate, fixed-term finance.

Most recently we have seen a resurgence in farm roof-mounted solar panel installations on cold stores, chicken houses and dairy parlours, right where the energy is needed.

The batteries on site manage the daily cycle of power utilisation, with excesses or deficits backed up to the national grid. We're also helping farmers right at the forefront of innovation, financing green CO2 capture in the biogas sector.

These remarkable solutions will help us as a society move away from more traditional forms of CO2 production and reliance on the artificial fertiliser process for the carbonated drinks market and other industrial uses.

In our last column we called on the government to help farmers and us as lenders by introducing a standardised, across-the-board system for benchmarking emissions and carbon sequestration – and the strategy's commitment to deliver a UK Green Taxonomy is a welcome step along the way to achieving this.

By providing investors, who ultimately fund the lenders with clear definitions of which economic activities can be genuinely labelled as green, this will inevitably have a positive knock-on influence in clarifying for farmers which projects meet genuine green/net zero criteria and therefore where and how to obtain the optimum investment support for their own businesses.

We are encouraged, too, that the Green Finance Strategy is also working to "explore how blended finance models might be used to…. mobilise private finance to support our green objectives".

This concept is also very close to home for us as we believe the best and most reliable way for investors and lenders to support genuine advances towards net-zero by 2050 is to fund them directly, not by buying loan portfolios wholesale from others, as is common in the financial services industry.

As a flexible direct lender we have always prioritised working with farmers to provide the best finance solutions and future outcomes for them, and often it's a blend of different funding sources that can help agricultural businesses to make confident, major impactive investments to create new revenue streams for their businesses.

Of course, as with any strategy by any government of any colour, it remains to be seen if the Green Finance aims are fulfilled. But with this high-profile acknowledgment of the role British agriculture plays in supporting our environment alongside sustainable industry, we're pleased to see an intention to give farmers that access to funding for these benefits.

In doing so, the government is quite rightly placing the role of British farmers firmly at the top of the UK's green agenda.