We're honoured to judge and sponsor the country's most prestigious farming awards
IT'S awards season at Rural Asset Finance – as we are honoured to sponsor and judge two of the biggest events on the farming calendar.
As well as repeating our sponsorship of the Farmers Weekly Awards, our CEO Matthew Smart is also a judge of the British Farming Awards.

"It's fun with awards to learn who's won, whose project really captures the imagination," he says. "But they're much more important than that. They showcase farmers' creativity and their ingenuity. Awards highlight how brilliant farmers are, and we are really keen to play our part in recognising this."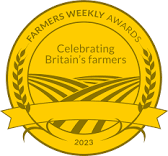 Matthew will be presenting the Contractor Of The Year prize at the Farmers Weekly Awards, on October 5 at the Grosvenor House Hotel in London's Park Lane. Then two weeks later he and three fellow judges will reveal their winner of the Large Diversification category at the British Farming Awards at Birmingham's Vox Venue.
"So many people outside the sector just don't realise how smart their local farmer is, how forward-thinking they need to be to build a business that isn't just profitable for today, but is sustainable for many generations to come," says Matthew. "These ceremonies will show their brilliance in thinking on their feet, and their continuous adaptability, reminding the public, the media, the government, just how invaluable farmers are."
Both awards reward farmers' determination and hard work, he adds.  "These nominees will have come on such journey to get here," he says. "Being Contractor Of The Year requires professionalism, good service, reliability. Diversification shows farmers' resourcefulness in creating a necessary alternative revenue stream. Many farmers who diversify have endured the stress of knowing they need to make that extra money and working out how to do it. They've had to come up with the idea, they might have had to persuade local planners.
"And even that's only half the story. Then they've had to find the cash – traditional lenders such as banks are reluctant to lend money to fund new untried business ventures, and most don't see the whole picture. They just draw up spreadsheets and see the bottom line and don't try to understand what the farmer is trying to do, or make the effort to learn how the diversification would work in real life."
Matthew understands the unique challenges of farming, having grown up on his parents' farm. Knowing the obstacles many farmers face in accessing funding prompted him to launch Rural Asset Finance, an alternative, friendly lending company that is on the side of the farmer, building proper relationships and working with farmers to provide the funding solutions they wanted for their business – often in a way that enables them to maintain their cash flow and keep back vital 'rainy day' money for emergency. He's helped hundreds of farmers with fixed-rate, fixed-term loans and purchase agreements but at the heart of every deal is a story about the farmer, his or her background and what they want to achieve.
"I love talking with farmers," he says. "That's why I love being an awards sponsor and a judge. I love hearing their stories, how they've achieved what they have so far, but also sharing their vision, hearing their plans and understanding how they would work, how they see their future.
"It never ceases to amaze me what brilliant ideas they have," he says. "Some business plans and diversifications are just genius and I can't wait to see the very best ones and learn from the people who created them. The awards show what can be achieved with an idea and the right financial backing.
"The judging and sponsoring doesn't feel like a job. It's another opportunity to do something I love – talk to farmers about farming!"