We're onto a winner at the Farmers' Weekly Awards!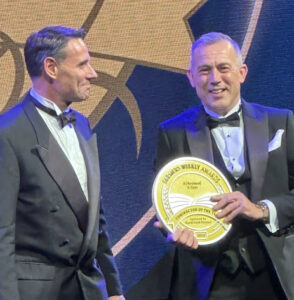 We were honoured to be a key sponsor of the Farmers' Weekly Awards last night – and delighted to crown AJ Heywood & Son as Contractor Of The Year!
Rural Asset Finance CEO Matthew Smart took to the stage at London's Grosvenor House hotel (pictured) to present the award during an evening that recognised the very best in British farming.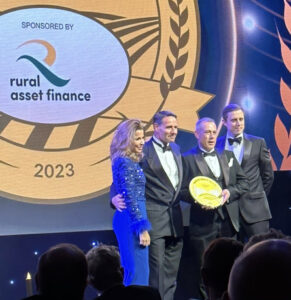 AJ Heyward, a Cornish family business that mainly services the county's dairy farms, were recognised for what Farmers' Weekly described as "brave investments in the latest forage harvesting and slurry spreading technology (which) have given Kevin Heywood's customers greater insights into their businesses than ever before".
"Huge congratulations to Kevin Heyward," said Matthew, "but also to the runners-up AJ Luke Contracting and AWSM, and the winners and runners up in all the other categories. It was an evening that really showed the huge talent, hard work and commitment of farmers right across the UK. We were delighted to be there, meeting old farming friends and making new ones, at an event that so clearly champions the very best in British farming. The enormous talent on show clearly demonstrates British farming is in very capable hands."